McDonnell Constructions' services/clients include the following:
- Single and multiple residences (Green-field sites)...
We work with our clients and/or their architects and engineers
to ensure the finished product will fully meet expectations.
We have extensive experience in working with many finishes,
and installing a wide range of renewable technologies, including: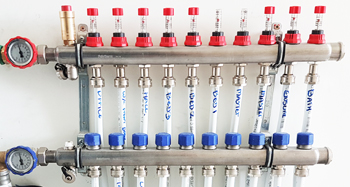 - Insulation and heat/air loss
control to meet exacting
BER
'A' rating standards.
- Solar thermal and PV.
- Air, ground and water source
heat pumps.
- Advanced
heating controls.
Hot/cold manifold in a heat pump system being installed by

McDonnell Construction, allowing for precise temperature

control in different areas of the house.

A state of the art Mitsubishi Electric'EcoDan' air to water heat pump unit, installed on the grounds of a recent new build, which will keep the whole building cosy throughout the year, at next to no cost. And of course such installations can avail of the generous SEAI grants for heat pumps and other energy conservation measures.
- Renovations and refurbishment
Clients frequently wish to renovate an existing property. We can

work with you either to carry out extensive renovations to that

property or to modernise the existing building while retaining its
original charm and features. Alternatively, we can deliver effective
repairs to your existing property.
Detail of a recent demolish-and-rebuild project undertaken by
McDonnell Construction.


- Extensions

We can work with you to plan and build extensions to your home,
such as conservatories/sunrooms, or additional rooms and
facilities to accommodate the needs of a growing or an ageing
family unit.

- Commercial and Public Sector contracts
Our clients/services include public sector or commercial work. For
example, we recently carried out extensive refurbishment work for
the Department of Education, on a local school. Bord Iascaigh
Mheara entrusted a sensitive demolition project to McDonnell
Construction, removing a disused ice plant building located in an
area of some complexity.
The old ice plant at Cleggan Harbour, owned by Bord Iascaigh Mheara, had lain derelict for many years.
Situated right at the edge of the Inner Basin, and originally built from mass concrete and pre-stressed steel.

its demolition called for careful planning and detailed liaison with both the client and with Galway County Council. The work was completed within budget and on time. The visual improvement arising from this work is plain to see.